Good tunes at BADcamp 2011
Yeah, yeah - I know it's anti-climatic to only read about it and not hear the evidence.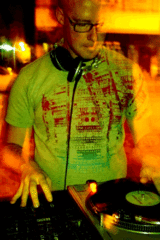 But the set(s) at the BADcamp 2011 Evening of Drupal were both really great, and really fun for me.  There were two of us spinning - me and DJ Spinnerty.  As I've done with my buddy James Millington, we set up my laptop as a remote drive to his computer (so we could get at both his music and mine), and used his laptop to play all the tunes (using Serato), trading off as the evening progressed. (Oh, yes - the image here is from Dan's own site - not mine. He admits the image is a bit tongue-in-cheek. :-)
What was so fun about it was that we were similar but just different enough to make it fun.  His favorite tunes were down in the 85-100 bpm range, with a strong nujazz influence.  I had to go digging around in my 100bpm range when he handed off to me, and slowly move the tunes up to around 115, where we quit for the formal short formal part of the program.
Later, we restarted around 100bpm, and moved it up slowly to a finish around 128bpm - with the K Klass remix of Underworld's Two Months off.
The music choices were a really nice complement to each other, I think. (I hope Dan (Spinnerty) thinks so, too!)  I enjoyed the counterplay immensely. 
Sadly, we didn't set ourselves up to record it.  We should have.  Only one of us (I take full responsibility...) had any serious screwups (and that was because I was experimenting with a new mixing technique while playing a live set (see below); bad idea...).
As the evening progressed, Dan and I also found out we're cut from similar cloth in other ways. He's a cyclist, so am I.  He played the Trombone growing up; do did I.  I took up piano later in school, so did he. And I'm pretty sure there were 4-5 other things we found that we both were similar on as well.  At the end of the evening, I knew I'd found a compatriot.  (AND somebody who can steer me the right way for music venues when I come to SFO. :-)
And if you can't go through life learning from every interaction, you're not trying hard enough.  I learned how to use 4 (-8, -16) bar loops in DJ software as a way to cue the next track.  I definitely need to practice, but it's a great tip from a real pro. (And yes, he DOES play regularly - much more so than I do - in "real" venues. My next job: convincing him to let me guest-fill a part of one of his gigs next time I'm in SFO. :-)
Thanks for the good memory, Dan, and BADcamp 2011!